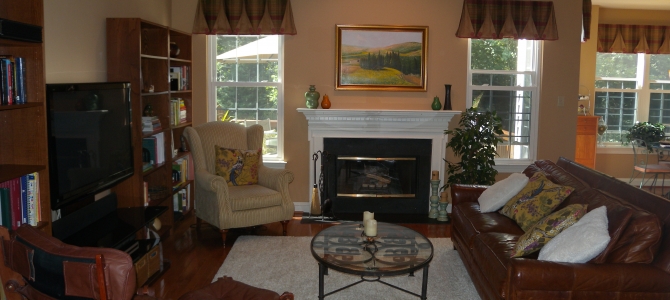 Home Staging is such a crucial component to selling your home these days.  Even with housing inventory shrinking, there is still much competition.  The shift of power is still in the hands of buyers.
If your realtor is not thinking about all the best ways to market your home, both on-line and in person, you are missing out on a pool of buyers that would otherwise be able to appreciate your house as their new home.  Every realtor these days should be suggesting you speak with a Home Stager, even if they feel your house already shows well.
Having a 1-2 hour consultation is well worth the value you get in return, with a fresh set of non-biased eyes.
Selling your home takes a team effort.  Between the seller, your staging company and the realtor/realty team you choose to market your house, the winning combination will elicit a FASTER offer, resulting in a sale!
Working with a team like Dragon Design, LLC you will hear the truth.  As brutal as that can be at times, if we don't address the negatives, and convert them to positives, along with the other great features that already exist, the sales process WILL take longer.  Time is money.  And, sometimes you will have to spend money to make money or preserve equity.  Is it ideal?  No.  We understand that no one wants to put money into a house that they are planning to vacate in a few short months.  But, the reality is that if you do not, odds are: your house will be sitting on the market longer.
 A 5% price reduction on a house listed for $300,000.00 is $15,000.00 = $285,000.00.
A 10% price reduction on a house listed for $350,000.00 is $35,000.00 = $315,000.00.
A 20% price reduction on a house listed for $400,000.00 is $80,000.00 = $320,000.00.
Even when partially updating/renovating a house, Dragon Design, LLC has not had client who spent more than $15,000.00 to prepare their home for sale!  This situation is rare!
If your realtor suggests that you should consider taking a price reduction before exploring the option of Home Staging and light renovating, you could be leaving money on the table!
Misconceptions about Moderate Renovations:
Buyers will start to create a "Price Reduction" Checklist for houses that need work.  Often, they guess incorrectly on the costs of those renovations.  If bathrooms, kitchens and other important rooms are not updated, buyers will either pass you by or put in an offer lower than is necessary.
Every renovation Dragon Design, LLLC has completed for a client selling their home has yielded a close to or at a full price offer AND within 30 days of going on the market.